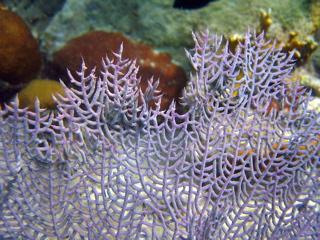 I'm having a bit of trouble recreating "fan coral" using Growfx. Making the basic branching structure and controlling the scaling isn't a problem. I just can't seem to limit the growth to one axis, especially if I want to make the growth structure slightly randomized, since the Random Direction modifier can't be limited to one axis. I've had some success using the "Radial Direction" modifier, and limiting the "branch" level's Turn Axis to 180, but since I can't add chaos to the Angle Bend on the Radial Direction mod, I still get very rigid and exacting shapes.
If anyone has any ideas or examples, I'd be very appreciative.
This is a very simple, wireframe example of the basic shape I'm trying to achieve.